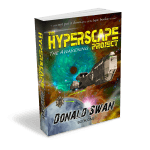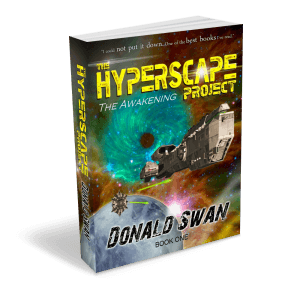 "Look out!" Nick warned, as another Mok'tu rounded the corner behind Arya. The huge mechanical soldier towered over Arya's small frame. With her so close to it, Nick would never get a clean shot in time.
Arya spun around to bring her gun to bear, but she was too late. The enemy swung its powerful arm, sending her pistol flying across the bay, and knocking her to the ground. Without a second of hesitation, the metal soldier was over her.  It bent forward and grabbed Arya with its robotic arm, picking her up off the floor and raising her to eye level. Its long, cold, metal fingers wrapped all the way around to the back of her neck, clutching her tightly in an icy grip.
Arya was now face to face with the Mok'tu, staring into its unsympathetic visual receptors. As she hung there frantically kicking at it, she tried desperately to pry its huge fingers loose with her hands. It was no use, the metal monster was going to squeeze the life from her body and there was nothing she could do about it.
Nick's finger was poised on the trigger, ready to shoot, itching to kill the bastard. But he hesitated as he assessed the situation. Arya was so close to the Mok'tu that the plasma blast from his pistol might kill her. But if he didn't act quickly, the mechanoid soldier could snap her head clean off.
"Shoot!" Arya screamed, her muffled voice barely leaving her tightly clamped throat. "Shoot the freking thing!"
Nick squeezed off eight rounds in one rapid burst. As the rounds met their target, smoke poured from the Mok'tu's metal skull, but the beast didn't move. Nick sprinted toward the towering hulk, emptying another five rounds into its head as he drew closer. The Tac Soldier seemed unaffected.
"Why isn't it dying?" Nick yelled.
The soldier just stood there motionless with Arya flailing around in its grip. Nick pushed his legs into a flat out run, planning on using the momentum and his own body as a ramming device. When he was close enough to the Tac Soldier, he lunged feet first into the beast, kicking it square in the hip in an attempt to knock it off its feet. The monstrosity didn't budge. It was like hitting a brick wall. The impact jarred Nick's spine and sent him bouncing off. He landed hard on his left shoulder. The impact pushed the air out of his lungs and caused him to bite his lip by accident. He barely missed hitting his head on the floor beneath him.
"Crap!" he cursed. The damn thing was solid as a granite mountain. No wonder everyone was so afraid of them.
Ignoring the pain in his body, he rolled nimbly and was back on his feet in seconds. With precision born of instinct and training, Nick aimed his pistol at the eight foot tall Mok'tu's head and fired another burst of rounds. A stream of hot liquefied brains flowed out of the skull and dripped down the Mok'tu's body. But the massive, silver hulk remained standing.
Arya still hung helplessly in the hulk's grip, staring at the metal soldier's expressionless face while steamy red liquid oozed down its neck and dripped onto the hangar bay deck. She struggled uselessly against the Mok'tu's grasp as the beast's metal legs began to buckle. The Mok'tu slowly collapsed to the floor with her neck still held tightly in its powerful mechanical hand. Pinned under the heavy, lifeless monster, she lay on the floor, fighting to get free. "Get this thing off me!" she screamed in a panic.
"I'm on it!" Nick pushed at the dead soldier's torso.  He had to strain every muscle in his body just to push the thing off of her. It rolled over onto the floor with a metallic clank. Nick stared down into Arya's frantic face. She looked up at him in desperation, still hopelessly trapped by the Mok'tu's huge metal hand clasped around her neck. A tear rolled from the corner of her eye. She was scared.  She was actually scared. Nick was surprised by her sudden show of vulnerability. Until this moment, she had always been strong and in control. He'd never seen fear in her before.
"I guess we're not so different, after all," Nick mused.
Arya whimpered as she gazed up at him.
"It's alright. I've got you," he soothed as he bent forward to help her.
Nick pried the lifeless mechanical hand loose from Arya's throat. As soon as she was free, she rolled away from the thing and lay gasping on the floor, struggling for air.
The sight and smell of the Mok'tu's liquefied remains pooling on the cold metal deck was enough to make Nick wince in disgust. The choking stench was somewhat like burnt hair mixed with vomit. He pulled away, throwing his arm over his nose to block the stomach-turning stink. "Ugh, they even smell bad." He wouldn't forget that aroma anytime soon.
"What took you so long? It could have killed me." Arya held her throat and coughed several times, still trying to get a good breath.
"I was af—" The sound of weapons-fire stopped Nick from finishing.
Concerned for Karg's safety, they both jumped up to see where the shots originated. They peered over the crates. Two Mok'tu stood in an open section of the bay. One of the beasts fell immediately to the floor, its skull billowing smoke. The other swung its rifle around to fire at Karg who stood nearby.
Before his friends could react, Karg ran and leapt into the air, his feet flying in the direction of his adversary. The Mok'tu released a barrage of rounds from its rifle, trying to get a bead on the advancing target, but Karg's amazing speed didn't give it the chance. The shots flew under Karg, one barely grazing his leg as he soared through the air.
Karg's foot landed square on its mark, forcing his prey's head down to the floor. His massive weight smashed the Mok'tu's armor skull against the hangar deck, crushing it almost flat. Red gunk squirted out onto the deck from under Karg's huge foot as the Mok'tu's brain was squashed like a watermelon that had been run over by a tank.
"That's four," Arya said. She quickly surveyed the hangar. "Where's the last one?"
Loud metallic sounds echoed through the bay, like a huge metal door being unlocked.
Arya looked around, her ears twisting as she listened intently to the strange noises. "I've never heard the ship make that noise before." As she turned back to Nick, her eyes widened. "I have a bad feeling about…this…. Frek! Run!"
---