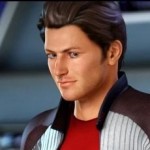 Hi, I am Donald Swan.
I spent my life cruising around the galaxy fighting against vastly superior alien forces that were hell-bent on destroying Earth. In my mind anyway. 😉
I really grew up on the Space Coast of Florida where I watched my fair share of rocket launches and built my share of model rockets and spaceships. Big Sci-fi fan. I Love Star Trek and I was in awe of Star Wars when it came out. As a kid I even built a hand-made Enterprise model lit with fiber-optics. (Before you could buy them that way.) It is no wonder then that I imagine flying around distant worlds and interacting with alien creatures. I wrote my first story in the fourth grade. (About an alien monster of course.) I live in a modest home with my wife and two furry, four-legged "children."
The Hyperscape Project is my first serious Science Fiction work. It is planned to be a Trilogy with the possibility of becoming a longer series.  This is the first book of the series.  I hope you will join me in this sci-fi tale. I would love to hear you reaction, so leave a comment! Sign up and I will let you know when the book comes. Don't worry I hate spam too. I will only email you very occasionally if there is important news. Don't forget to play the Lost Chapter game while you're here.